The history of this lodge may be traced to a fellowship at the BNS Officers Club in July 1987 hosted by Bro. Capt. Sonny Liston in honor of his "balikbayan" brother, WB Baltazar M. Liston. A second fellowship followed in late 1987 during which the establishment of a lodge in Fort Bonifacio was discussed. On July 5, 1988, thirty founding members filed a formal petition with the Grand Lodge requesting for authority to establish a lodge in the heart of the fort. On July 12, Grand Master Raymundo N. Beltran issued a dispensation authorizing them to congregate as a lodge until March 31, 1989 and appointed Major General Restituto Padilla as the first Master of the lodge.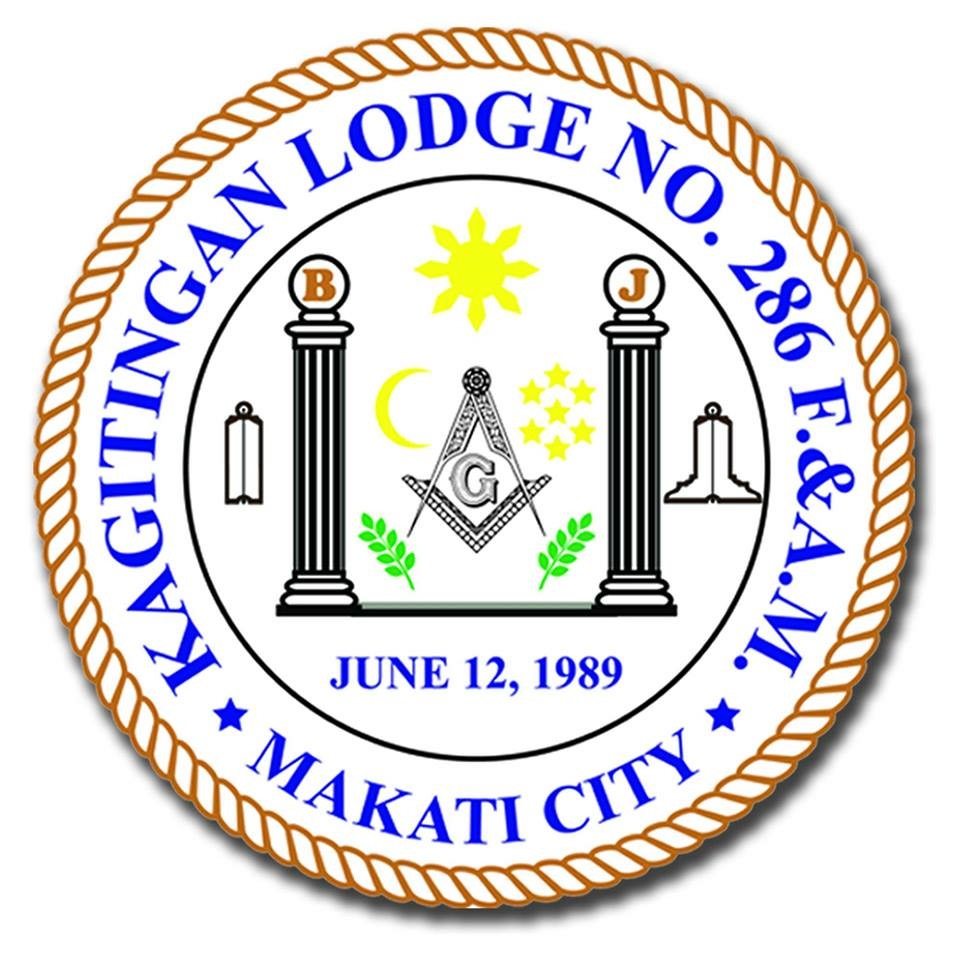 MW Beltran instituted Kagitingan UD on August 13, 1988 at the Temple of Jacobo Zobel Memorial Lodge No. 202 at Makati City. During the annual communication held in April 1989, the Committee on Charters reported that the lodge, since it was instituted, had met thirteen times, initiated five candidates, passed five and raised five. Based on the Committee's recommendation, the Grand Lodge granted Kagitingan Lodge a charter and assigned to it number 286.
On June 12, 1989 Kagitingan Lodge 286 was formally constituted with Grand Master Juan C. Nabong, Jr. performing the solemn ceremony. Its first set of charter officers were Bros. Restituto Padilla, Worshipful Master, Narciso M. Liston, Senior Warden, and Mariano A. Miranda, Junior Warden.
Kagitingan Lodge started out as an all-military lodge. On September 30, 1989, the lodge initiated its first civilian member, Enrique L. Flores, Jr., a suave executive of the Securities and Exchange Commission. Flores was elected as the Master of the lodge in 1993, again the first civilian to sit in the Oriental Chair of the lodge.
The affairs of the lodge are now managed by a crop young and able Masons, some of whom are Reynaldo N. Cadiz, Antonino Gascon, Manuel Luis Inquival, James Olayvar, VW Elson Tayko, VW Juanito Vańo, VW Rufino "Jun" Arias, Alfonso Obsum, Dennis Pena, Romeo G. Gan, Edbert C. Lasam, VW Ricardo Marquez, and Edito Granada.
A dream of the lodge is to construct its Temple inside the Fort.
Kagitingan Lodge # 286 able to produce brilliant and famous Master Masons in various field of work, to name a few:
1. VW Wilson Amper ✞, Police Chief Superintendent(Retired)
2. VW Rufino Arias, Navy Captain (Retired)
3. VW Emmanuel Bravo, Police Sr. Superintendent (Active)
4. VW Rodrigo Diapana, Major General (Retired)
5. VW Romeo Gan, Army Lt. General (Active)
6. Bro. Edgardo Layon Jr., Police Chief Superintendent (Retired)
7. Bro. Rey Leonard Guerero, Army Lt. General (Active)
8. VW Manuel Luis Idquival, Chief of Staff to MW Gazmin
9. Bro. Santiago Nebres, Navy Rear Admiral (Retired)
10. VW Edgardo Magpantay, BIR
11. VW Ricardo Marquez, Police Director General (Retired)
12. VW Alfonso Obsum, Custom Broker
13. VW James Olayvar, Pres. DLTB
14. WB Restituto Padilla Sr., Brigadier General (Retired)
15. VW Dennis Pena, Police Chief Superintendent (Retired)
16. VW Elson Tayko, Navy Captain (Retired)
17. VW Juanito Vano, Police Director (Retired)